For years, these women say they've been dismissed and shamed for a painful disease they have little control over. Today, they're using their new-found knowledge to deliver a powerful message.
It's not rare, but it's rarely spoken about.
You might spend most of your life being told you're too fat, too dimply, too chunky.
Walk it off, eat more veggies, give up carbs.
As the condition progresses, your pain increases and pressure to the skin becomes excruciating.
Swelling and bruising happens often and easily. Your mobility worsens to the point where you may need a wheelchair.
While its true prevalence is unknown, international studies estimate around 11 per cent of women and those assigned female at birth are affected.
This is life with lipoedema.
A tale of shame and pain
Xanthia Efthymiou is a vibrant 22-year-old. She exudes confidence.
However, as a teen with thicker thighs, Xanthia was well aware her body didn't fit the aesthetic of her generation.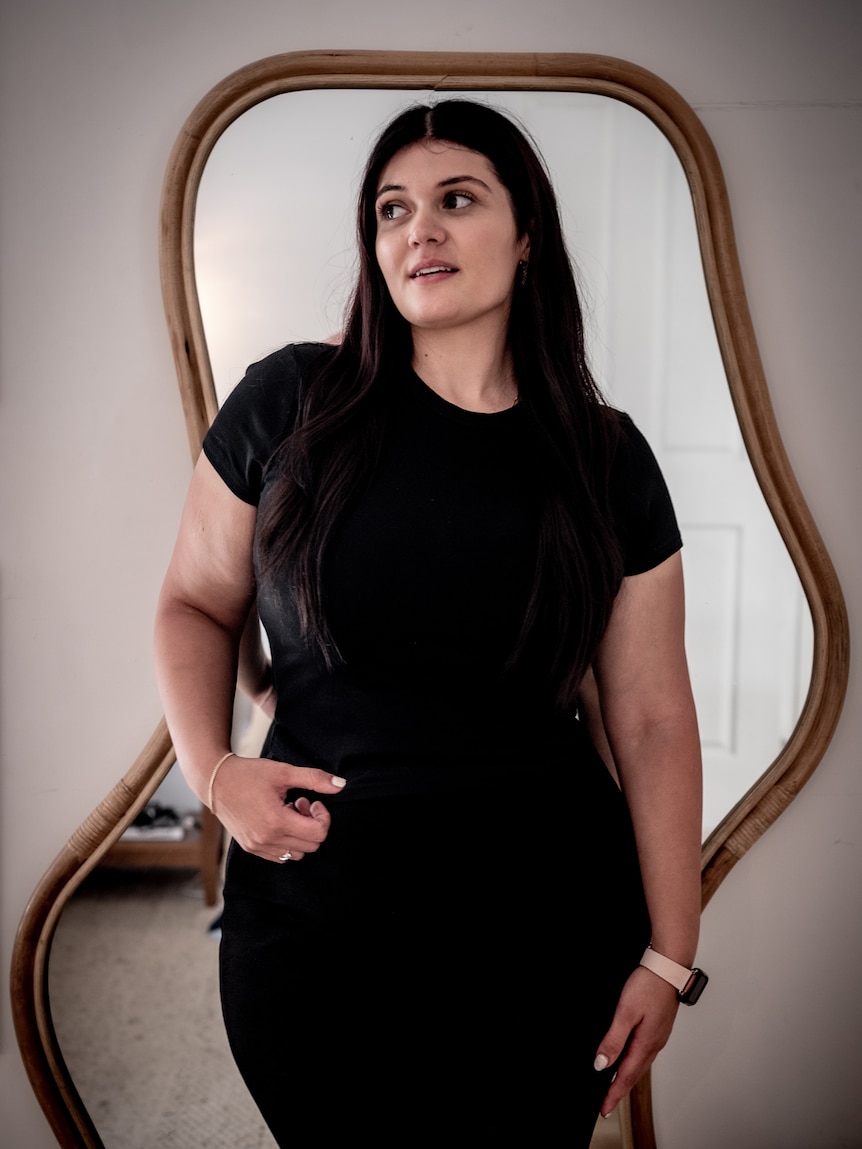 "Tree trunk thighs or thunder thighs — I think I've heard it all," she says.
"I felt really ashamed of my body."
She also began to experience swelling, bruising and intense pain in her legs.
"If you were to put 10kg of ankle weights on my legs, that's how it would feel to walk," she explains.
The solution, according to doctors? Just lose weight.
One of the world's leading researchers on lipoedema says this advice is not only harmful, it's just plain wrong.
"[Lipoedema] has absolutely nothing to do with diet or exercise," Dr Tara Karnezis says.
She says that, unlike regular fat, lipoedema fat continues to grow and accumulate in an irregular way around the legs — and sometimes the arms — proving almost impossible to budge.
There is also no known cure. 
Many health professionals just don't understand the symptoms, she says, and fail to give patients such as Xanthia the diagnosis they need to live a pain-free, healthy life.
"Some doctors classify it as obesity, but patients have tried every diet under the sun," she says.
In fact, many women with lipoedema told the ABC they have been overlooked and judged by a health system too quick to label them based on their body size.
That's why Dr Karnezis — and her research team at St Vincent's Hospital in Melbourne — are working towards an earlier diagnosis.
From pain comes power
Xanthia combines her love of fitness, fashion and body positivity on TikTok.
She's clocked up almost two million followers.
However, Xanthia had never heard of lipoedema until other TikTokers commented on the shape of her figure.
It sparked a journey through the health system, leading to a diagnosis at age 20.
"[The specialist] took one look at my legs and could tell me straight away that I had it," she says.
"I realised this isn't something that's talked about."
Lipoedema can contribute to obesity — or patients can experience both — but they are separate conditions.
"Normal fat loss responds to a restriction of calories, but those fat cells in lipoedema don't respond this way," Dr Karnezis says.
People with lipoedema accumulate abnormal fat around the lower limbs and to a lesser extent, the upper arms. 
These fat cells continue to grow, triggered by hormonal changes — such as puberty, pregnancy or menopause — rather than diet.
"We don't really know why, but do know there's a lot more of these fat cells in lipoedema patients growing and expanding in a very unregulated way. And they continue to grow to a point where it becomes debilitating," she says.
Legs can become excruciating to the touch, partly because patients experience a type of nerve pain called allodynia and also because of an excess of lymphatic fluid.
Bruising happens often and easily, due to more fragile blood vessels. 
Today, Xanthia shares her life with lipoedema — including her recovery from $38,000 specialised liposuction surgery last year — with young women everywhere.
She says having her dog jump onto her lap still feels like "having a dumbbell dropped onto my leg". 
Xanthia has ditched intense workouts for low-impact weight training, which is much easier on her joints.
She follows a low-inflammation diet and wears compression tights.
When she can afford to, she books in for lymphatic drainage massages.
The pain is always waiting to surface, she explains, but it is not as severe as it once was.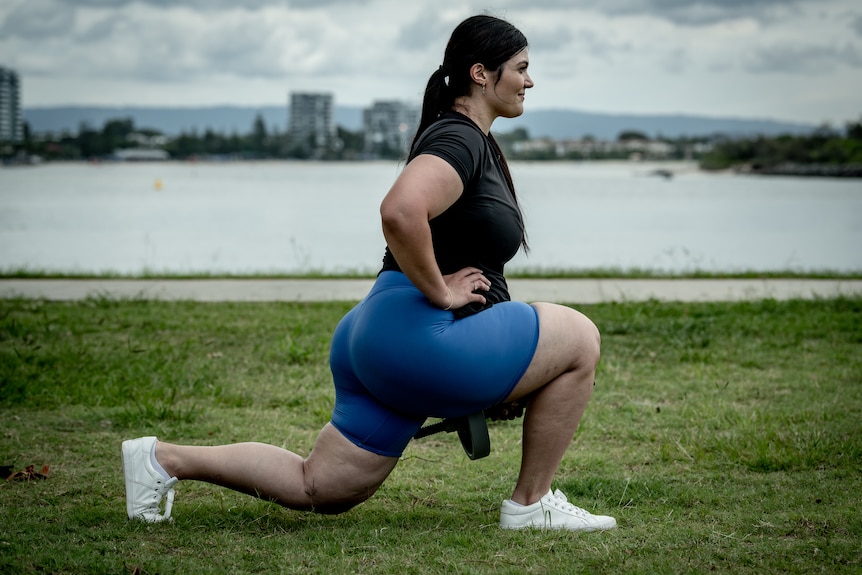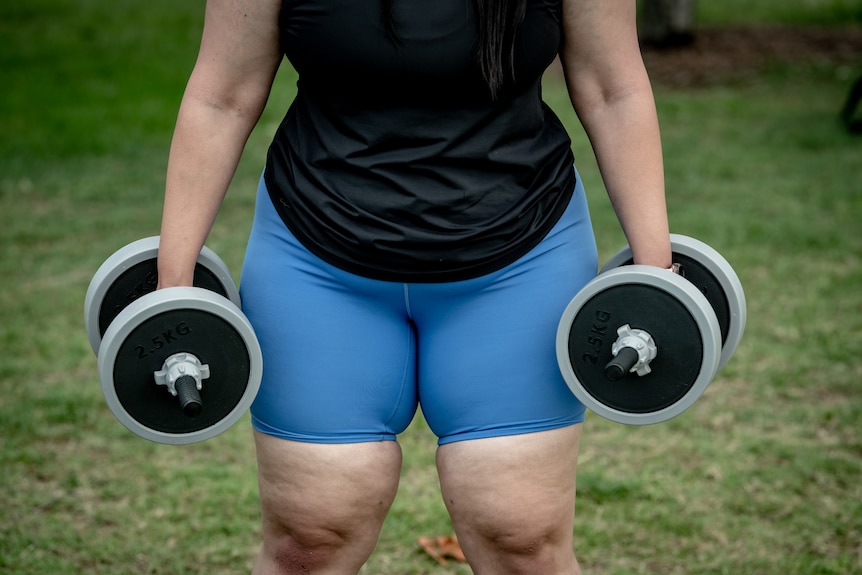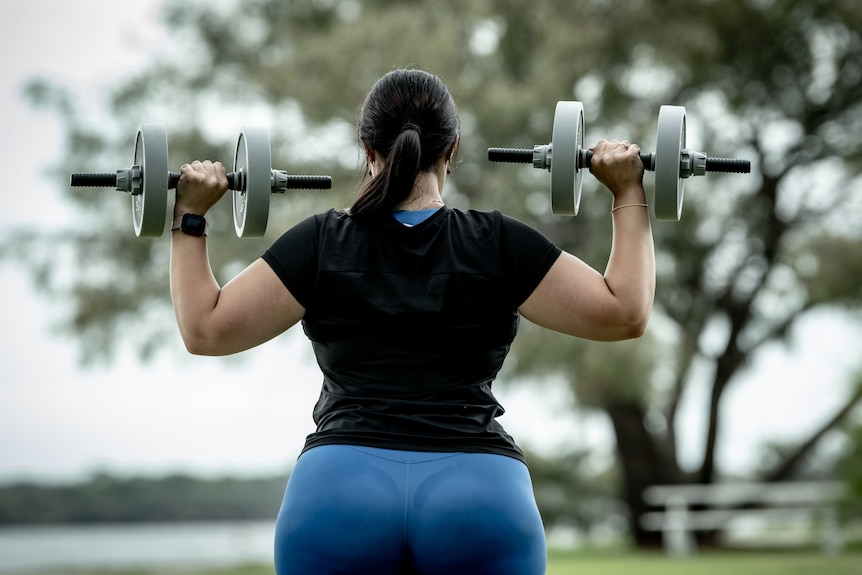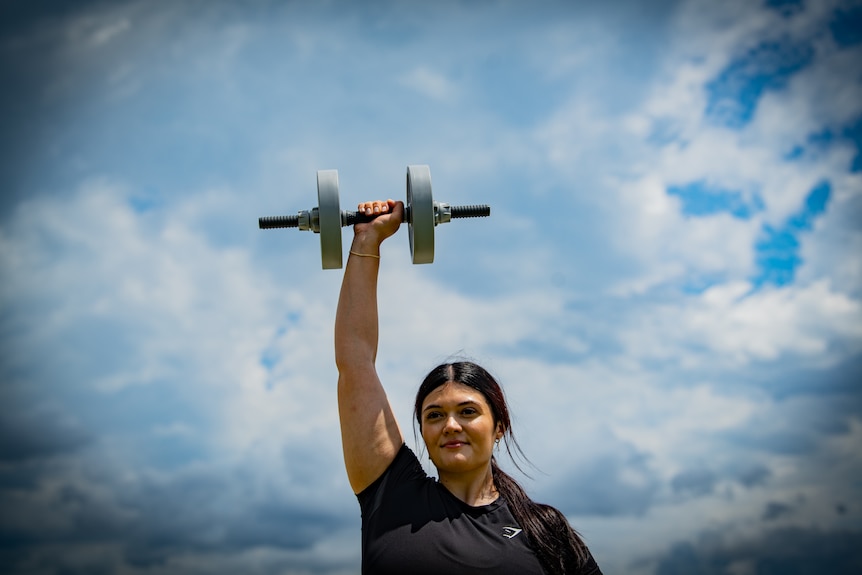 The price we pay for never knowing
The effects of undiagnosed lipoedema are serious and can leave lasting psychological scars.
Dee McKinnon has revealed her body to us to show that, for her, there's no shame in the physicality of this disease.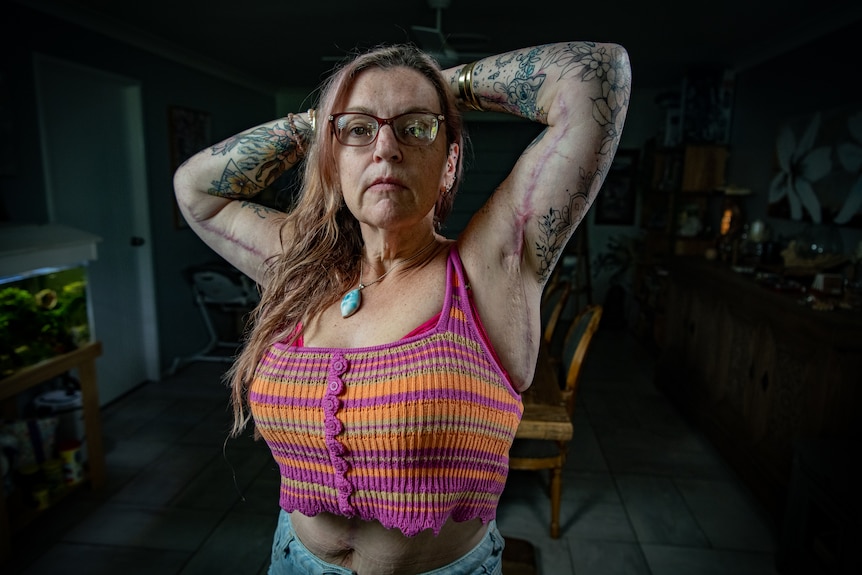 Tough, direct and no-nonsense, Dee was diagnosed with stage-four lipoedema around three years ago.
Now 55, Dee has had multiple surgeries.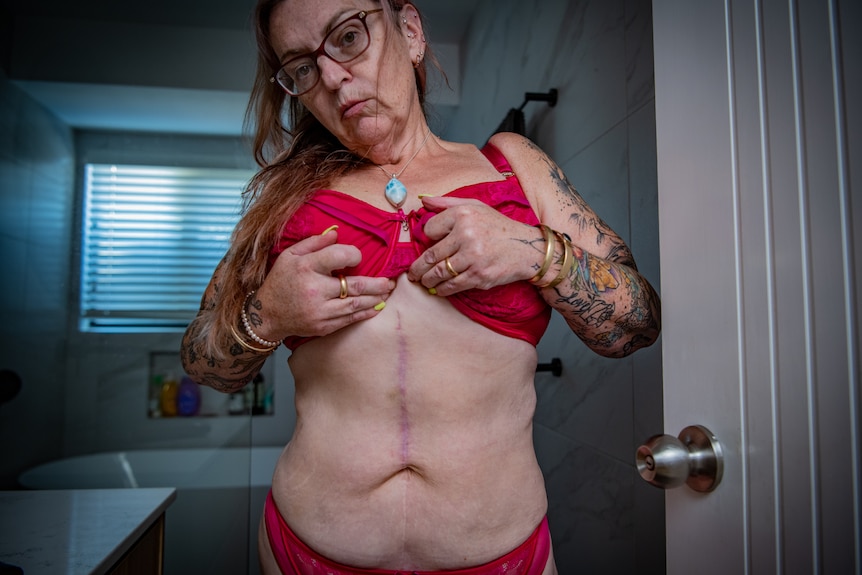 The long, thick, red scars crossing Dee's body carry a constant reminder of what she's endured.
And after a lifetime of working on her feet,  Dee says doing the most basic tasks without pain meds is excruciating.
Her body bears the brunt of the many decades living with undiagnosed lipoedema.
Dee worries she could lose the ability to walk altogether.
Despite numerous surgeries to ease the pain and keep her body mobile, Dee says she is renovating her home in preparation for the possibility of needing to use a wheelchair.
Full-body compression garments, a compression pump suit she lays in for an hour each day, massages and regular pain medication are now part of her daily ritual.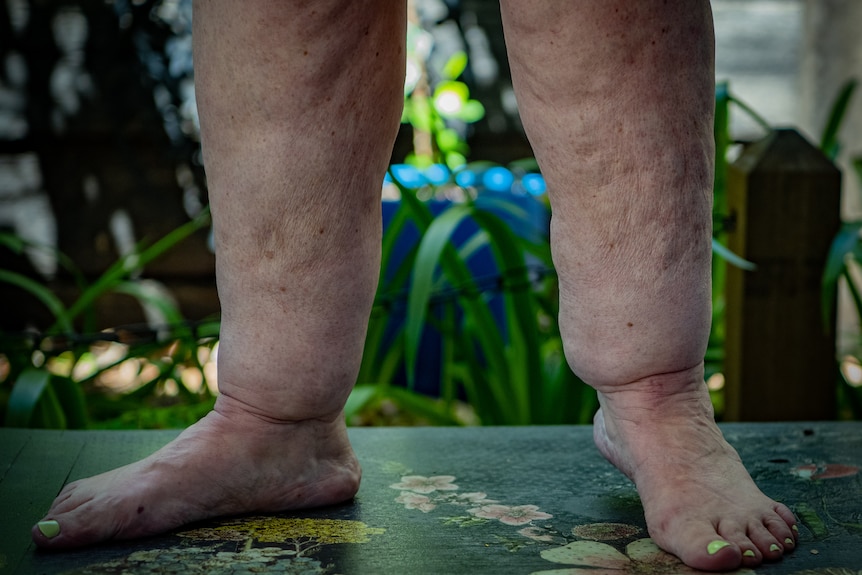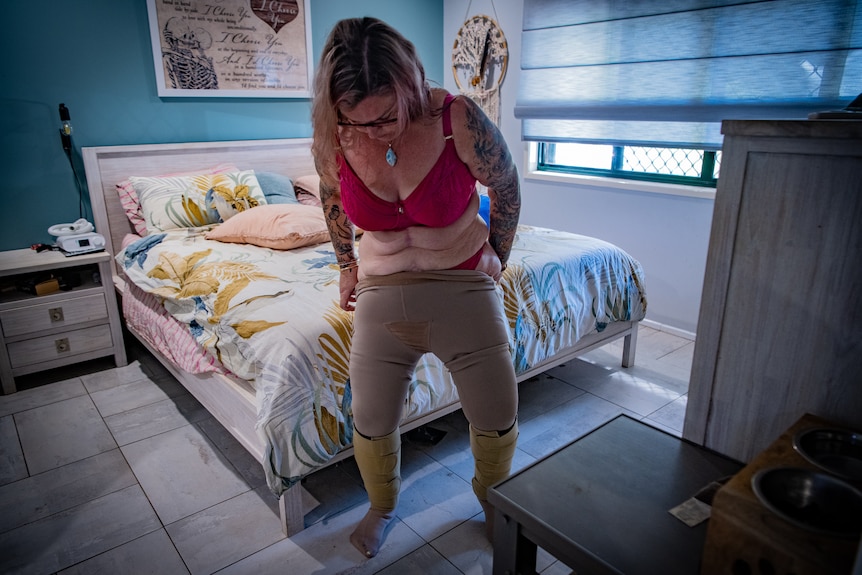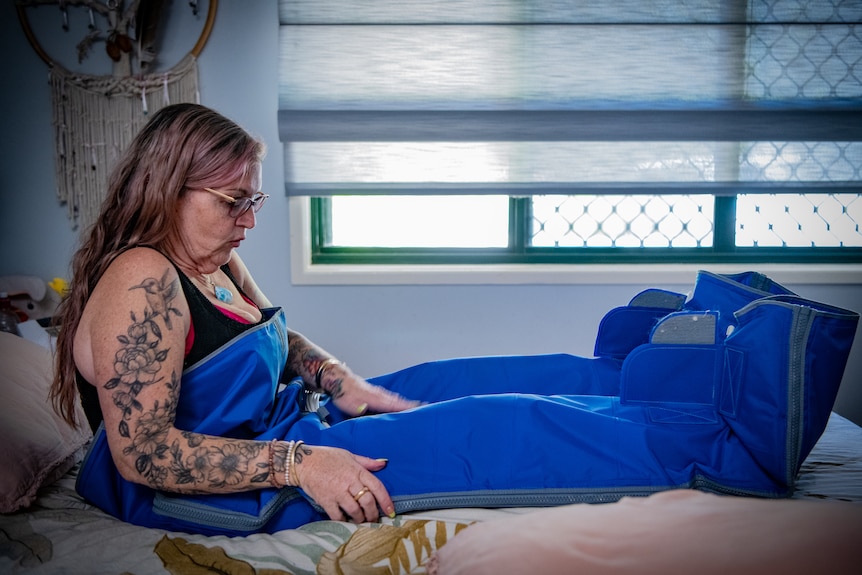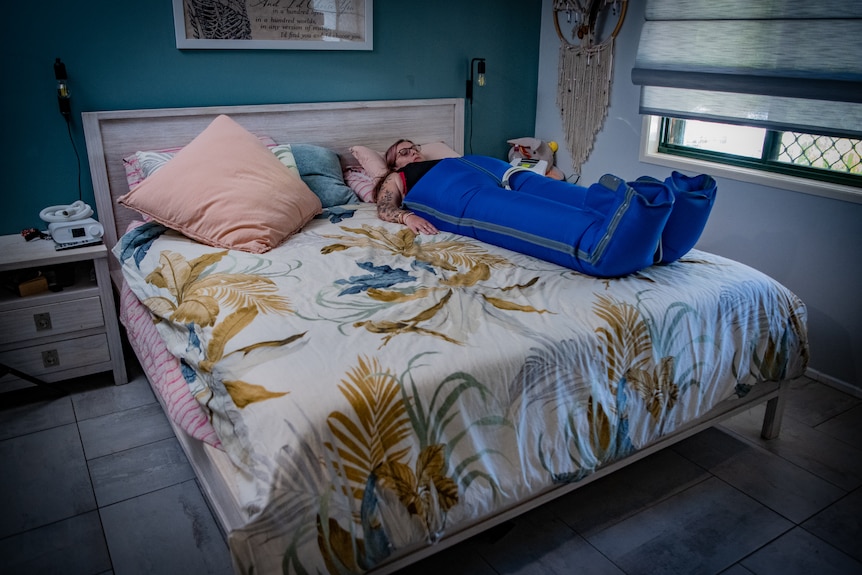 In the three years since her diagnosis, Dee has spent around $50,000 to manage her pain and stay on her feet for as long as possible.
She's also had to dip into her superannuation fund, as well as take time off work as a baker to recover from the specialist liposuction treatments.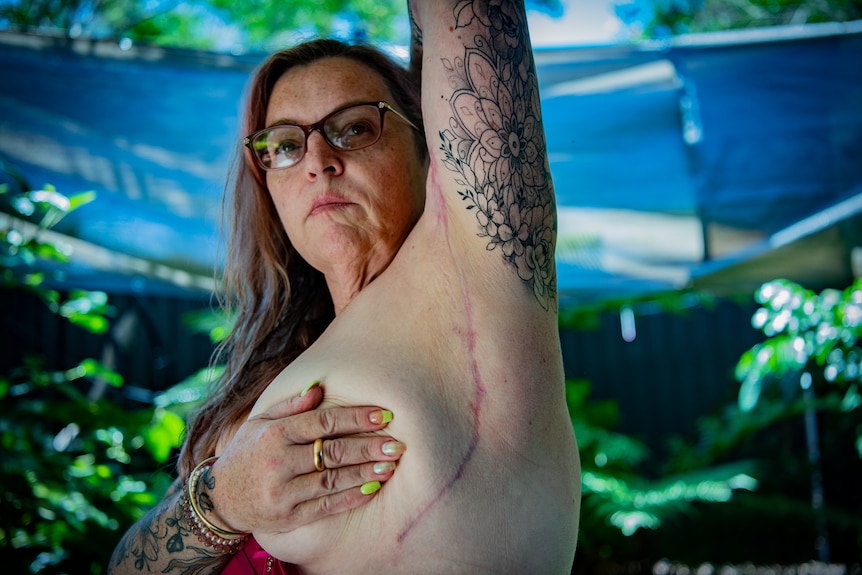 In August last year, Dee had surgery to remove lipoedema fat from her upper arms. Recovery took almost three months.
"I don't hate my arms that much," she says.
"[But] they were horrific incisions. They cut me below the elbow, right through to under the breast."
Dee is also angry.
She says she feels let down by doctors who didn't trust her instinct that something else was going on with her body.
"Everything was because I'm overweight and fat," Dee explains.
"And, every time, I was told the only way to improve my health was to basically get off my ass and walk."
But Dee is comforted by the knowledge that her daughter, Jess, won't have to go through this too.
Jess also has lipoedema. 
The condition is hereditary.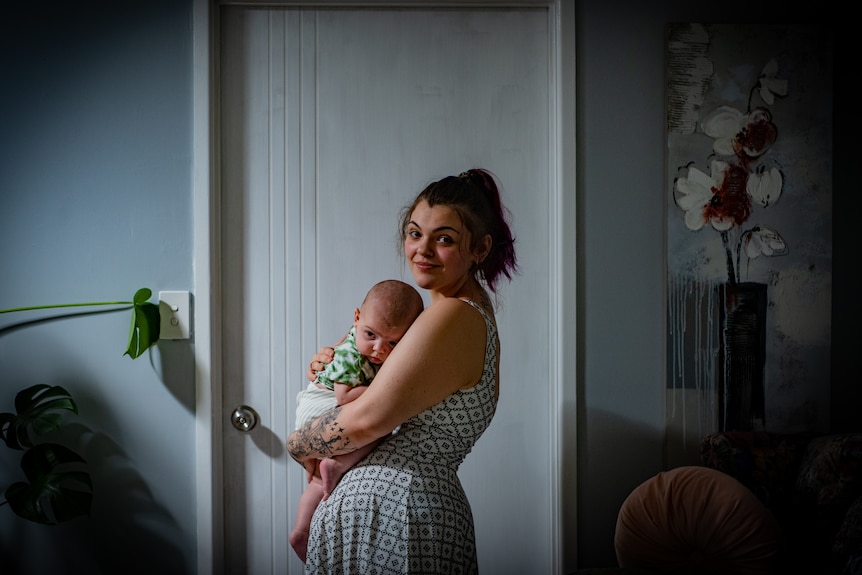 "It's heartbreaking knowing I gave it to her," Dee says.
"[But] she's blessed, because throughout the journey with me, she's got more knowledge and empowerment than someone else of her age."
Power in numbers
Standing beside Xanthia, Dee and her daughter is a group of dedicated women from around the country, intent on raising awareness of the disease, and advocating for affordable treatment.
Leading the charge is Jen Bartlett, the chair of Lipoedema Australia.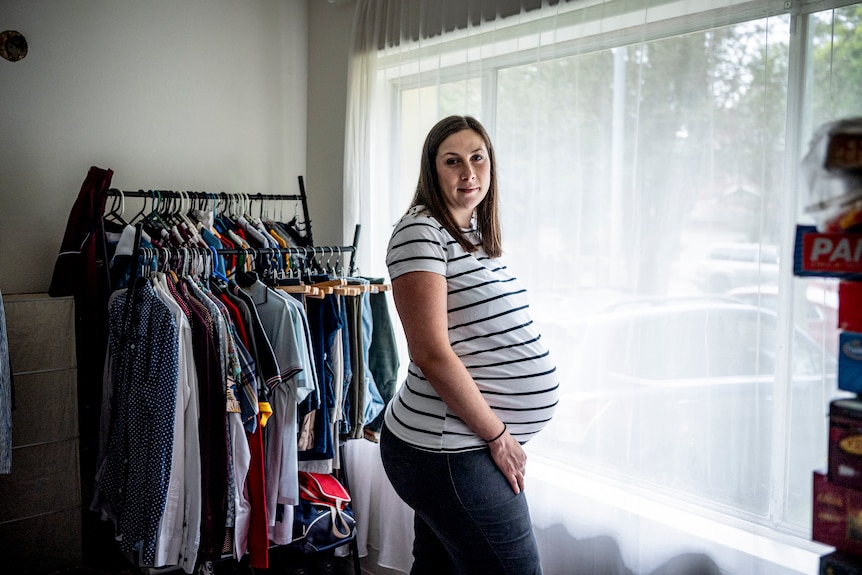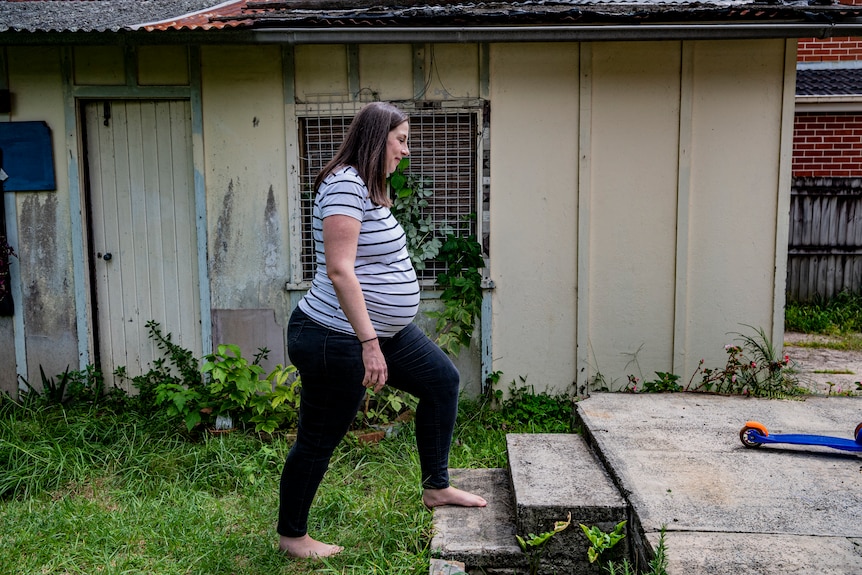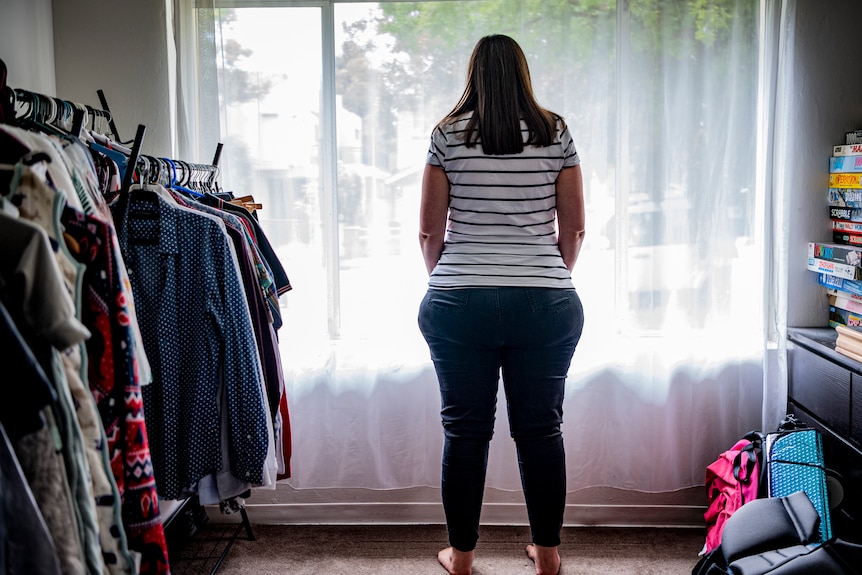 Her ultimate goal is to get lipoedema treatments covered by Medicare. Currently, patients report being tens of thousands out of pocket for management of the disease, including specialised surgery, lymphatic drainage massages, compression suits and garments.
Ms Bartlett says that, for women such as Xanthia and Dee, it's a choice between covering the household bills, or a lifetime of chronic pain.
If she's successful, Ms Bartlett hopes lipoedema will receive greater recognition and understanding across Australia, allowing sufferers to access and afford treatments earlier. 
"Women shouldn't be finding out at the age of 50 or 60, when they're going through menopause, that they've been living with this since they were 12. It's not fair," she says.
In a written statement, the Department of Health and Ageing says patient benefits through Medicare were only available for clinical services, rather than for the purchase of goods. 
It says some states and territories may offer limited assistance for medical compression, and that lymphatic drainage and dietary or exercise advice may be eligible for a rebate if a doctor provides that.
Acceptance and closure, finally
These women choosing to speak out say it is about much more than funding, research and treatment.
It is about no longer being dismissed or stigmatised by the health system.
Dee wants to share her story for others who have been diagnosed, or suspect they might have the disease.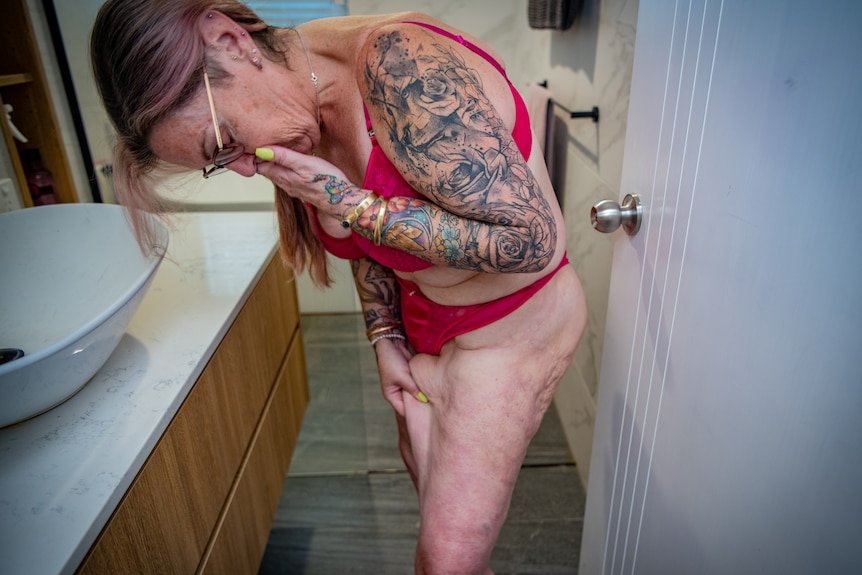 "When I look at my body now, I see ugly, painful scars.
"I've lost everything, yet gained so much.
"I see a history and the journey of what this disease has cost me: mentally, physically and financially.
"But I also see hope and love as I discover what I can do, and how I can help myself."
Xanthia knows she's lucky to have discovered this condition at a particularly young age.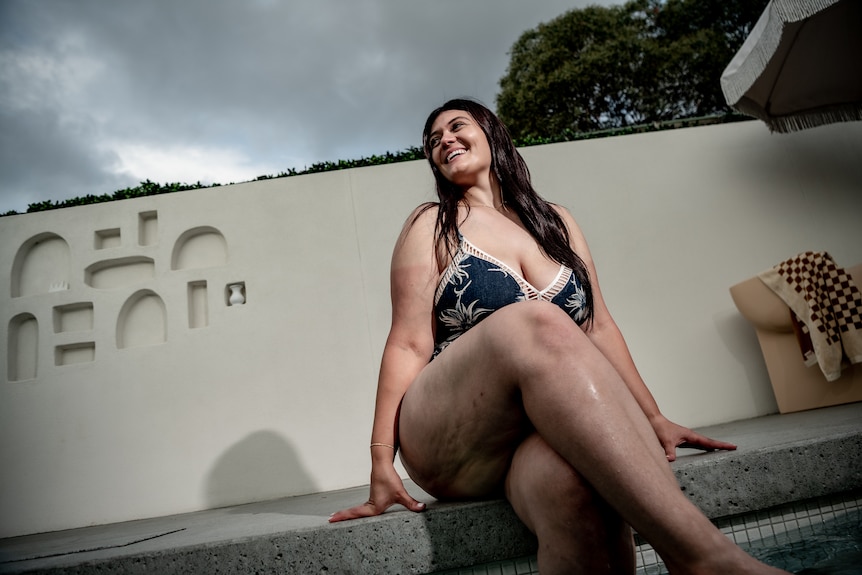 "I remind myself that it's not my fault that I suffer from this condition.
"Instead, I use it, and help inspire other women to feel comfortable and confident in their bodies as well."
"When I look in the mirror today, I feel empowered.
"For the longest time, I hid my body behind baggy clothes.
"After years of learning to love the body I'm in, I feel confident in my skin."